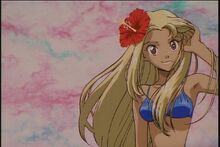 Recruited to fill a hole in the lineup, Yoko has very little athletic ability. Yoko is mostly interested in concentrating on a modeling career, but was looking to use the up-and-coming baseball team as a way to stand out from others. She is originally from Okinawa, the southernmost prefecture in Japan, which explains her tanned skin. She left her hometown, claiming to get rid of dozens of boys who wanted to be her boyfriend, and set her heart to a career in modeling.
Ad blocker interference detected!
Wikia is a free-to-use site that makes money from advertising. We have a modified experience for viewers using ad blockers

Wikia is not accessible if you've made further modifications. Remove the custom ad blocker rule(s) and the page will load as expected.