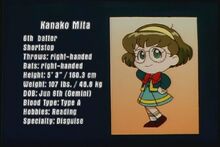 Kanako is an excellent baseball player and is the daughter of the school's principal who is against the baseball team in the first half. During this, Kanako has to disguise herself as Tami Konaka (小中 多美), a pseudonym which is an anagram of her name, to be able to play for the team. She has a kind of geeky attitude, and she wants to be a doctor. But she also likes baseball, and wants to play baseball during her high school years. Kanako was also previously a softball star in junior high, and Hikaru recognizes her from their previous encounters in softball games.
Ad blocker interference detected!
Wikia is a free-to-use site that makes money from advertising. We have a modified experience for viewers using ad blockers

Wikia is not accessible if you've made further modifications. Remove the custom ad blocker rule(s) and the page will load as expected.