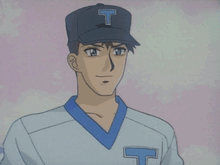 Ryo's late father and Shino's late husband. A left-handed, rising star pitcher in baseball many years ago, but he was banned from playing baseball for life because of a scandal he was caught up in (but had nothing to do with). He won the National High School Baseball Championship at Koshien a long time ago, and during his short stint as pro baseball player, he won the Japan Series with Towa Jaguars three times in a row before he was banned from baseball. He is famous for inventing and throwing the legendary Lightning Ball, an extremely powerful pitch which has struck out a lot of professional baseball players. Ryo later rediscovered the Lightning Ball with the hints from coach Kido, and she uses it as her ultimate weapon in her baseball games. 
Ad blocker interference detected!
Wikia is a free-to-use site that makes money from advertising. We have a modified experience for viewers using ad blockers

Wikia is not accessible if you've made further modifications. Remove the custom ad blocker rule(s) and the page will load as expected.